06 Luglio 2022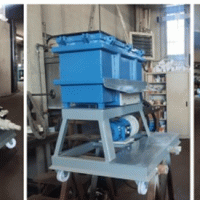 Filter Pump TE15 sold to our reseller TF CHEMICAL for a Company - end user located in the Brescia area.

The filter pump, equipped with PP valves, candles and rings made of Titanium, will be added in a trivalent Chromium bath
MAIN TECHNICAL DATA
Effective capacity (l/h):
15.000
Capacity (l/h):
24.000
Filtering surface(m2):
ca. 6,5
Filtering degree:
< 1 µ
Electric power (kW):
2,2 (=3 hp)
Kg of carbon:
3,5 - 4
--
TF Chemical is a company located in Borgomanero, in the province of Novara, engaged for over 35 years in the field of electroplating.
The company markets specific products for the galvanic industry, offering cutting-edge solutions for the surface treatment of metals.
--
**** We will be closed from Saturday 6th to Sunday 28th August 2022
We are at your disposal to schedule maintenance interventions, according to your closing period and your production needs